Wrapping Text
---
Sometimes you would like the text to wrap around an image rather than have an image on a single line and text above or below the image.
Start by double clicking on the image.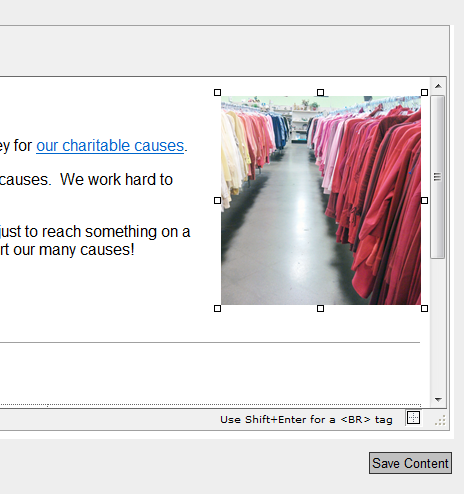 Once you have double clicked the image, you will get the images property box. From here, you will change Positioning Text Flow.
Float the image left and the text will flow right around the image.
Float the image right and the text will flow around the left of the image.
Default is one bottom line of text. Text Bottom is the same.
Text Top is one line at the top right of image.
Text Middle is one line at the middle right of image.
You can see the preview below the Positioning area.

We do suggest after choosing your wrapping text that you apply some padding to the image to keep the text from sitting right next to the image.
If you float left, put padding on the right, if you float right, put padding on the left. We recommend 10 pixels.
Click on Apply and your image will be set with wrapping text of your choice. Now Save Content.