Structure of a Website
A basic website consist of 4 parts:
Header (logo area at top of page)
Navigation Bar (links area on side or top area)
Content Area (middle area of page)
Footer (Bottom of page)
Common Content Area (area under Navigation Bar)




Header
The "Header Area" is where you place your logo and company name. It is at the top of the page so make sure it;s appealing to the eye. Besides your logo, you can add a banner rotation here, information about your store, or just an eye-catching graphic.


Navigation Bar
The "Navigation Bar" is the box that contain all the links to each page in your website. This box can be located on the left side, top, or right side of your site. The placement of this box depends on the template you choose. There are three levels to the links in this box. When you mouse over the link it will slide out into a sub-catergory box. You can create up to three levels of sub-catergories.


You can see here that as you mouse over the links, the menu slides the sub-catergories out. This makes it easier to organize and easier for your visitors to navigate your website.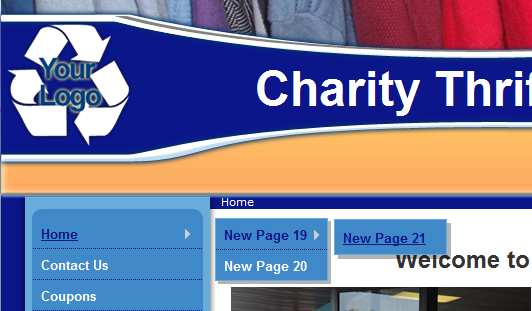 Content Area
The "Content Area" is the meat and potatoes of your website. The Header is eye appealing and states who you are, the Navigation Bar guides visitors through your site, but the Content Area is where you will put all your information. All the other areas will be seen on every page of your website, but the Content are is unique to each page. Make sure you keep this section somewhat simple. This area should mostly be text with some graphics. You want your visitors to be able to find what they are looking for on these pages quickly. If you fill it with too many graphics or don't keep your text formatted, your visitors will get annoyed and wander off to another site.
Footer Area
The "Footer Area" is the area at the very bottom of your site. Usually their for more visual effects than anything, you can add your store address, or maybe some additional links.
Common Content Area
The "Common Content Area" is a special area that we designed for you to put additional information that we might not offer, and make it visible on all your pages. Some people simply use this for store location, phone numbers, email addresses, or some use it for advertising or facebook apps. This is the area we give you to do whatever you want.