How to Create and Move Web Pages
---

This will show you how to create new web pages, and move them. The order in which you arrange your pages, from top to bottom, is the order they will show on your pages.


First, log into the control panel, and click on Edit Menu.




First notice your web pages. These are the links (In top to bottom order) that are in the navigation bar of your website. Decide where you want to put your new page. Notice the 3 levels of pages. Organize your pages so visitors can find them easy.

Click on Add Top Level Menu to create a 1st tier page.
Click on the " + " sign beside each page and click Add Sub-Level Menu to create a 2nd or 3rd level page.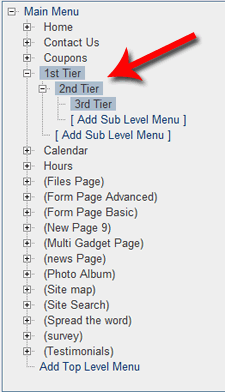 After selecting "top" or "sub" menu page, click OK on the pop up window. Now enter the information for the new page, and save.






After saving, you will see your new page is now in the Site Menu.


Moving Pages in the Menu


Begin by deciding what page you want to move and where? In our example, we are going to move the "new page 24" up and under the "coupons page."
Click and hold the left mouse button on the page you want to move and drag your mouse to the word you want your new page to be under.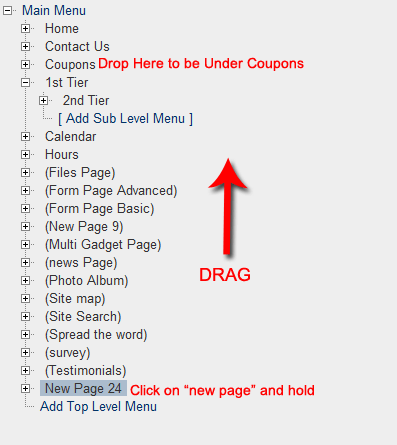 See the results.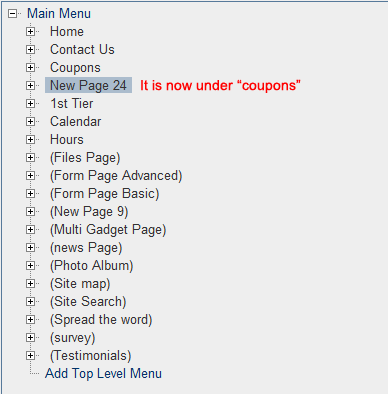 You can also drop the new page under a top level page and make it a 2nd tier page. Just expand the page you want it to be under, so it shows the 2nd tier pages.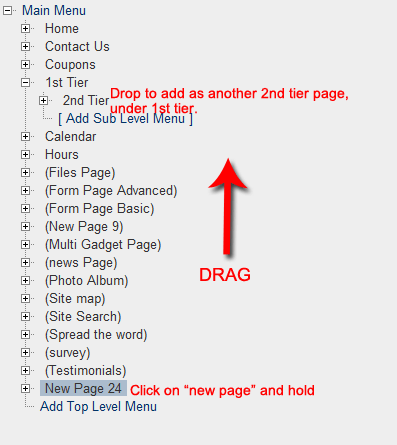 Another Option

You can also click once on the page you want to move. Once it is highlighted, you can click the up or down links. They are located in the upper right hand corner. This will only allow you to move pages within their own tier. (example: can't move a 1st tier page to a 2nd tier spot. 1st to 1st or 2nd to 2nd)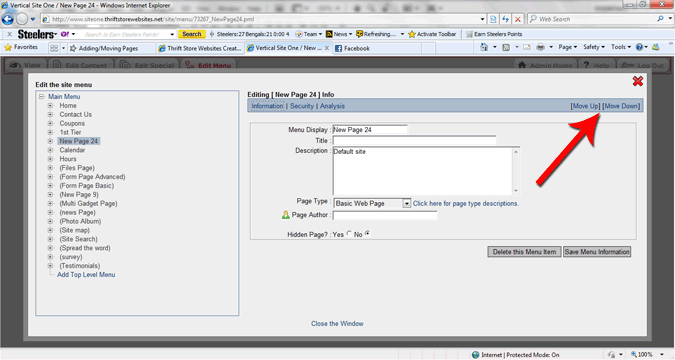 Note: Remember there are 3 tier groups.