Adding Keywords
---
We do include a keyword tag with your startup site filled in with thrift keyword terms, but you may wish to add or delete keywords at some point. This tutorial will show you how to edit these keywords we have provided to you with your website.
While Google uses the Meta Desciption for search engine content some other search engines may still use Meta Keywords. You can add key words into the "Avanded Site Information" section of your Thrift Store Website.
Start by clicking on the Admin Home Button.

Next you will see Account Maintenance. Hover and go down to Advanced Site Information and click on it.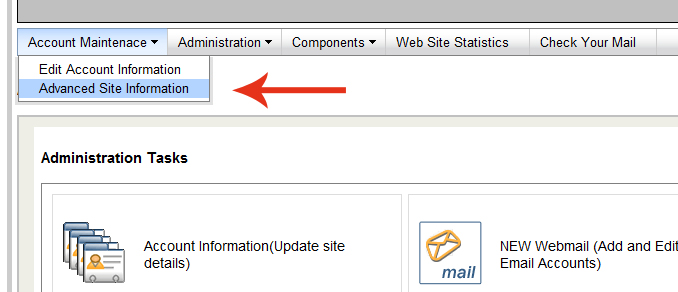 You will see an HTML Head section and a Page Footer section. You will be working in the HTML Head Section.

You will see this code below is already in the HTML HEAD section and you can modify the Keywords, replace it with keywords for your site and separate them with commas.
<meta name="keywords" content="YOURKEYWORDS" />
Change the YOURKEYWORDS to words that describe your website. You will want to include your city, store name, and state. Also include other keywords that are relevant to your store. Be sure to separate them with a comma.
example: "Your Thrift, thrift store, city, state, thrift, donations, used clothing"
Be sure to Save Content and you are all done!