Adding a Survey Poll and/or News Ticker
---


Begin by going to the page you want to add the News ticker and/or Survey Poll


Click "edit menu" on the Control Panel




Next choose your page. Under Page Type, click and select the option you want. You can choose from Muli-Gadget, News, or Survey page. Below are the definitions for each choice. Once you have your option chosen, click on Save Menu Information.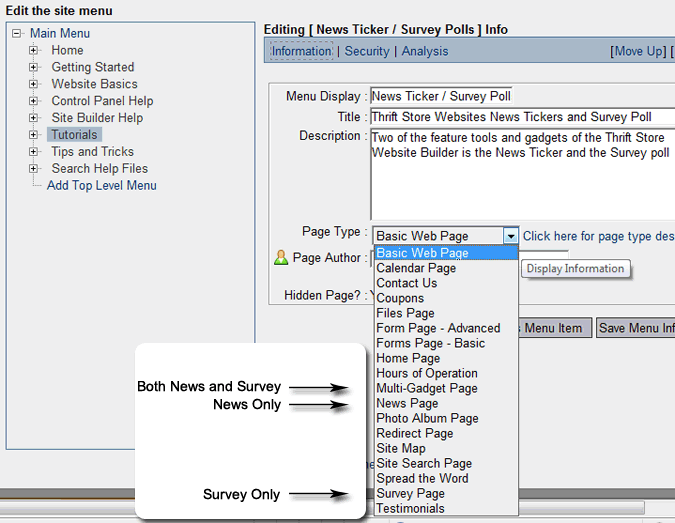 Close the window and your web page should now have a News Ticker and a Survey Poll Showing. For this example we have chosen the Multi-Gadget page.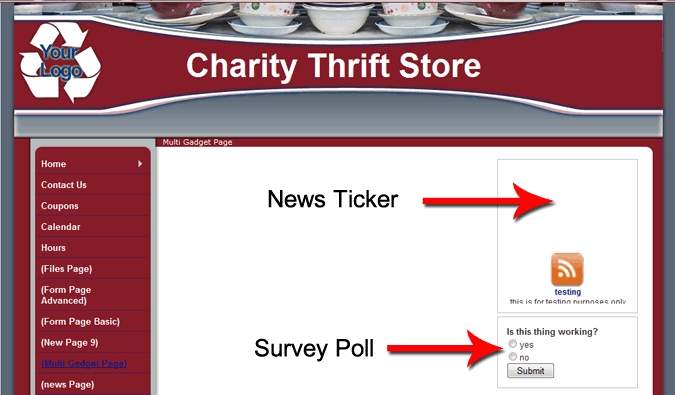 Next you will click on Edit Special





From this screen you can select which side you would like your new content to show on and in what order.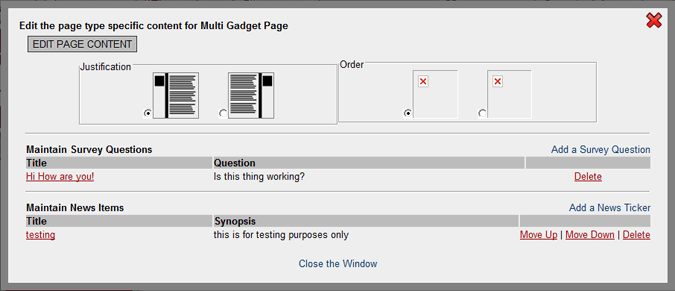 Add a Survey Question:

Click on Add a Survey Question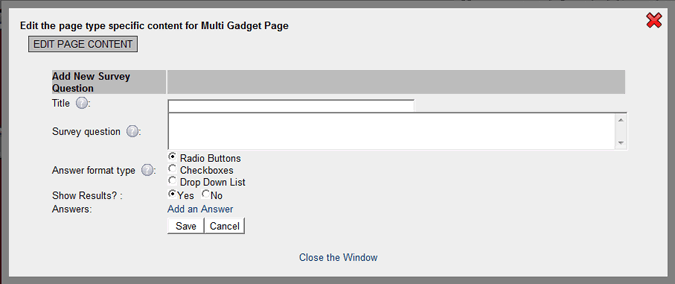 The Title can be anything you want to identify it. It will only be visible by you.
Survey Question is the question you would like to ask.
Then you have your choice for how they select their answer. A radio button (looks just like the choices you are choosing from), A checkbox, or a drop down list.
Do you want everyone to be able to view the results? If you choose yes, they will be taken to a result screen in the poll box after they vote. If you choose no, they will be taken to the next poll question. View the tip for Survey Results to learn how to view your survey results.
Next you will put in your answer choices. Click on Add An Answer. You will get a text box. Put one answer here for them to choose. Continue to click on Add An Answer and put the answer in for as many as you would like.
Click on Save.

Here is what a correctly filled out survey poll looks like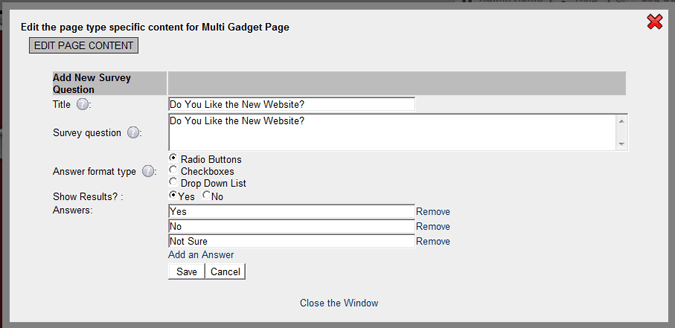 Close your window and look at your new survey poll on your website. You can come back and add as many or re move current polls as often as you like. You can also have more than one poll at a time. They will rotate as voted on by visitors.



ADD A NEWS TICKER

When in Edit Special, click on Add a News Ticker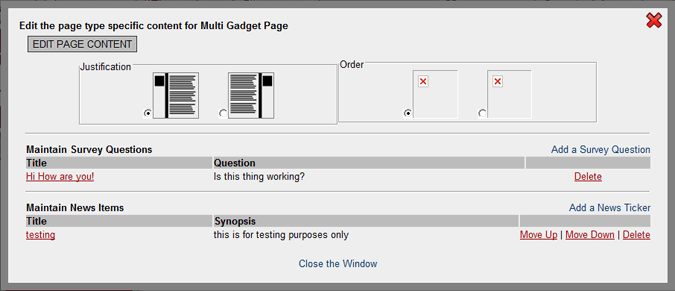 Next you will enter your Title, Synopsis (optional), URL to link to (optional), and Icon (optional.) Click Save.






Once you fill this out, Save, Close, and Check your work. Your site should be updated with the new Ticker. You can add aas many Tickers as needed, they will all scroll continuously in your Ticker box.